Position POI in Center of View
All Earth Survey tools that require point input use the center of the 3D viewer. For best results, disable automatic tilting (
Tools, Options, Navigation, Do not automatically tilt while zooming
) and minimize elevation exaggeration (
Tools, Options, 3D View, Elevation Exaggeration, 0.01
).
To position the point of interest (POI) in the center of the view, add a placemark at the desired location, and then
1. Edit the placemark.
Right-click on the placemark.
Select Properties (Get Info on a Mac).
2. Reset the view.
Click on the View tab.
Press the Reset button.
Press the OK button.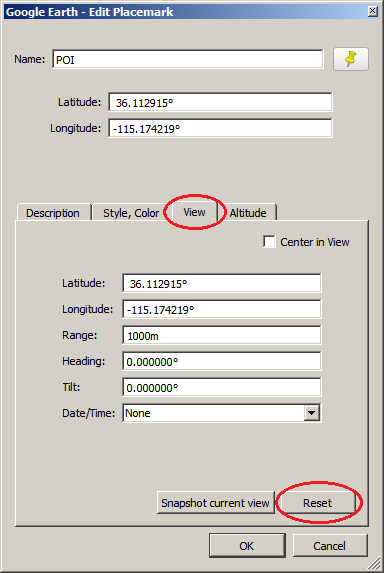 Note that Center in View is not checked. Note also that Tilt is 0.00°.
See also: Create & manage placemarks